Forsyth County Oratorical Contest
The 2016 Forsyth County Oratorical Contest, a county-wide competition, began with more than 4,500 middle and high school students. The local contest is sponsored by the Sawnee-Cumming and Forsyth-Cumming Optimist Clubs. Each year the top two girls and top two boys move onto to compete at the Zone competition. Beyond the Zone competition is the area competition, then the state/District competition. Charlie Dougal of Pinecrest Academy, one of the boy finalists of the local competition, will represent the GATEway District in St. Louis, Missouri for the Optimist Oratorical World Championships.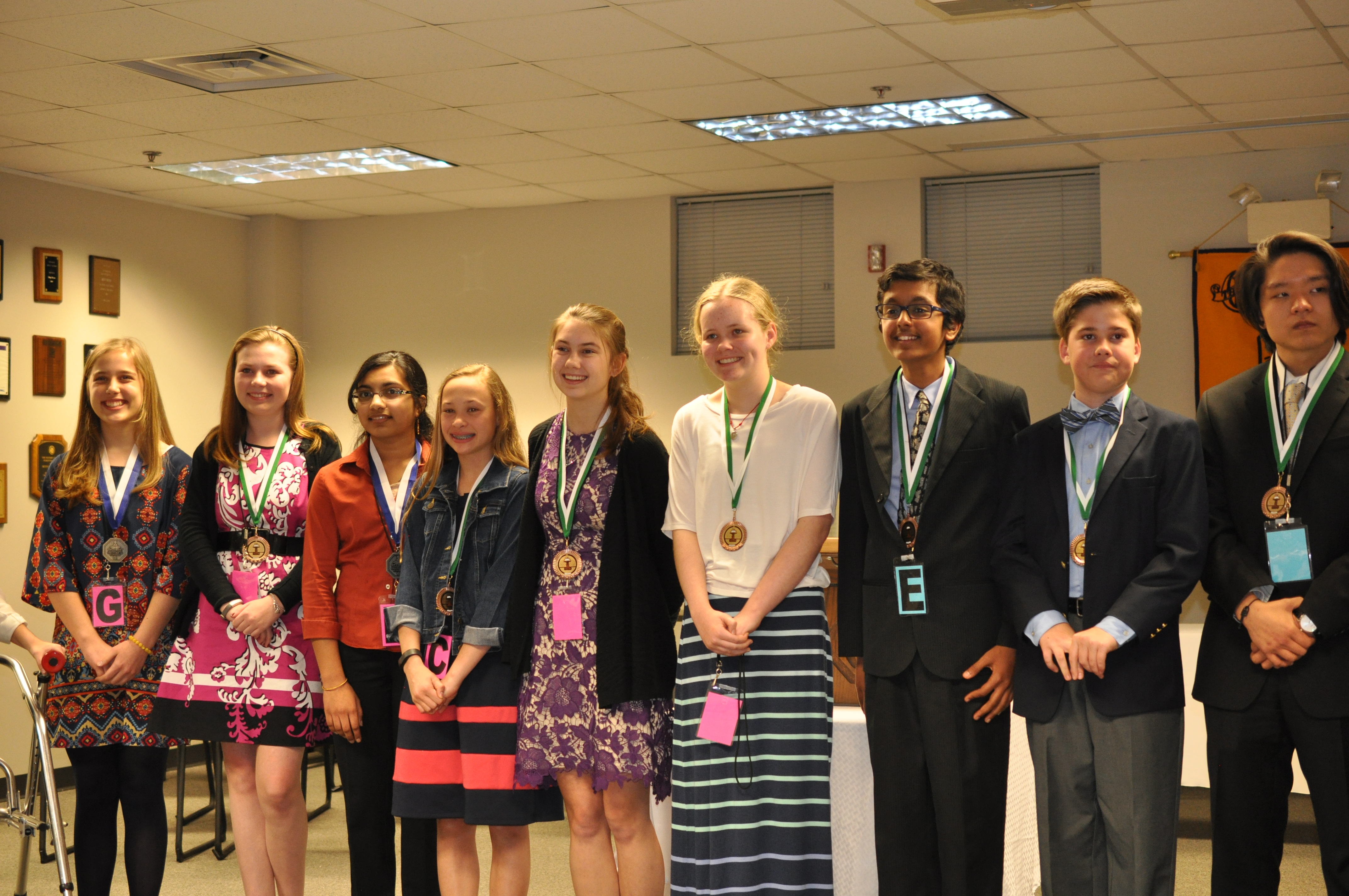 The Forsyth County Oratorical Contest, hosted by the Sawnee-Cumming and Forsyth-Cumming Optimist Clubs, has been well-known for a number of years. The contest is one of the largest in the Optimist International organization. The Forsyth County Oratorical Contest has had nine state/District finalists. The competition is open to students from all Forsyth middle and high schools. A separate competition is held to give fifth graders an opportunity to write and gain public speaking experience. Other projects hosted by the Clubs are essay contests, CCDHH, and Expressing My Passions, a program for students with special needs to develop storyboards consisting of pictures and details about what they love most.
Jan Norman, Forsyth County Oratorical Contest Chair, has been involved with the contest since 1993. Her husband was an Optimist Member and her daughter had previously competed in an Optimist Oratorical Contest. She wanted to become involved because she recognized the significance of the project. She continues to be involved because "there is a great deal of self-satisfaction when you realize the difference you can make in a young person's life."
The Forsyth County Oratorical Contest is widely successful due to being a respected contest within the surrounding schools. The contest is currently associated with 34 public schools and four private schools. Some schools have included the contest in their curriculum. When Norman first became involved, she visited schools and talked to principals about the contest's benefits. She suggested each school assign a coordinator. With Norman's help, the coordinator communicates to teachers within the school about the topic, dates/deadlines and other information pertaining to the contest. Norman suggests to each Optimist Club struggling with attracting participants to develop strong relationships with schools and teachers. Recognize and thank teachers for promoting the contest and encouraging students to participate.
Another important aspect of Oratorical Program that is sometimes overlooked is recruiting quality judges. Norman says, "When you have judges with outstanding resumes, such as community activists, you become known for holding a good, fair competition." The Forsyth County Oratorical Contest has had judges from United Way, the Forsyth County Board of Educators, and local hospitals. Certain judges can lead to sponsorship or partnership opportunities. For example, the Forsyth County Oratorical Contest applied for a $5,000 grant from United Way. The grant was quickly approved because employees of United Way were aware and had served as judges for the contest.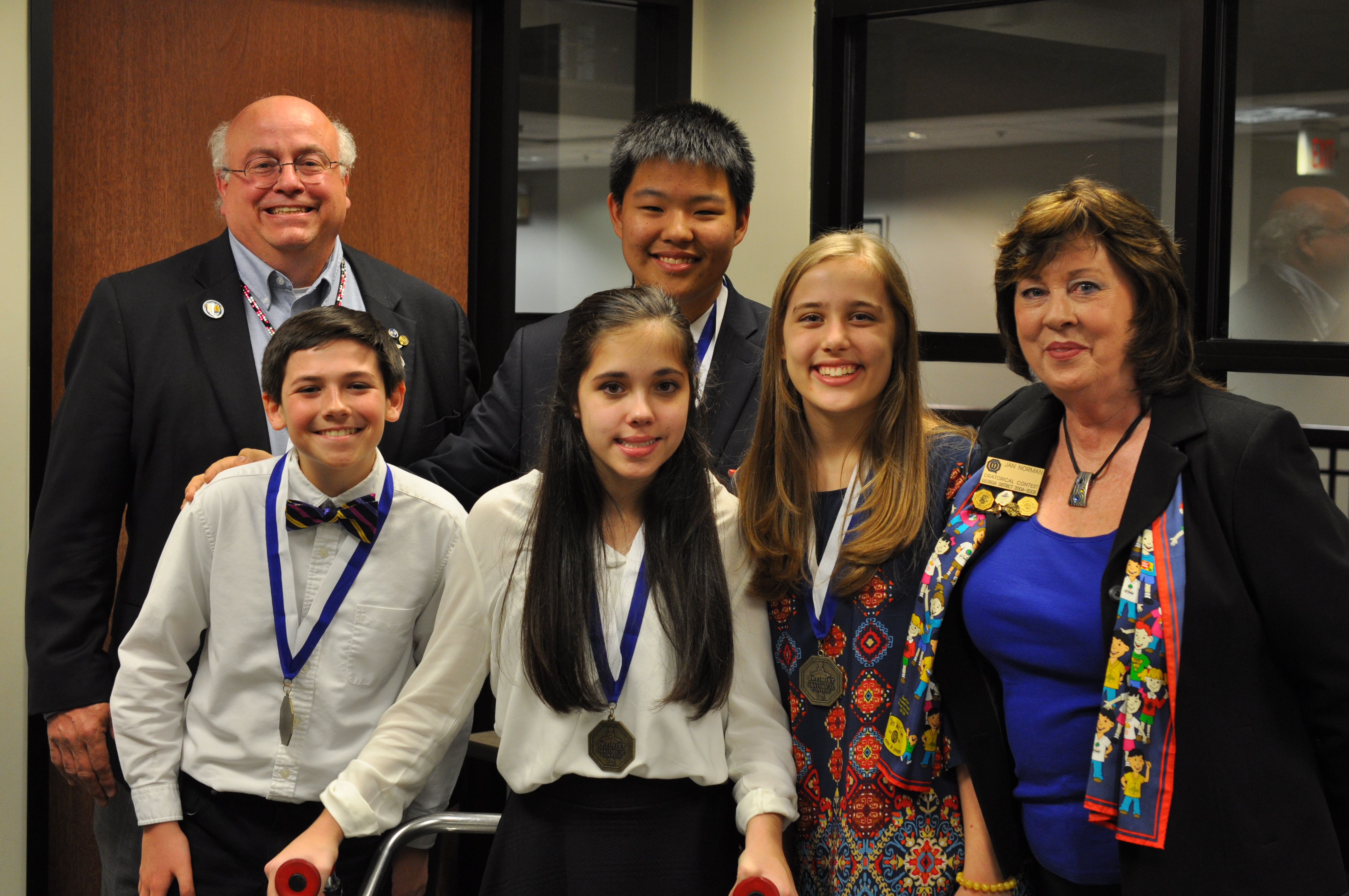 To any Club wanting to become involved in the Oratorical Program, Norman suggests starting small. "Your contest doesn't have to be huge; just have fun doing it and watch it grow," Norman says. She believes it does become easier each year as the Club adapts to what it can manage. Start with a school or two and develop relationships. Draft letters to principals, coordinators, judges, and winners to use year after year."
"If at first you don't succeed, try again" is the advice Norman would give to each child competing in an Optimist Oratorical Contest. Norman recalls one of the Forsyth County Oratorical Contest girl finalists won the state/District contest in 2014 - it was her seventh time competing in the local contest. Norman urges students to treat the contest as a learning experience and to remember it's not all about winning. She urges students to be prepared, but remember to have fun and stay relaxed.
For more information about the Forsyth County Oratorical Contest, visit the Forsyth-Cummings and Sawnee-Cummings Clubs' websites.