Last updated March 22, 2021
Optimist International Hot Topics
Welcome Optimists Worldwide (W.O.W.)
Feb 28th, 2021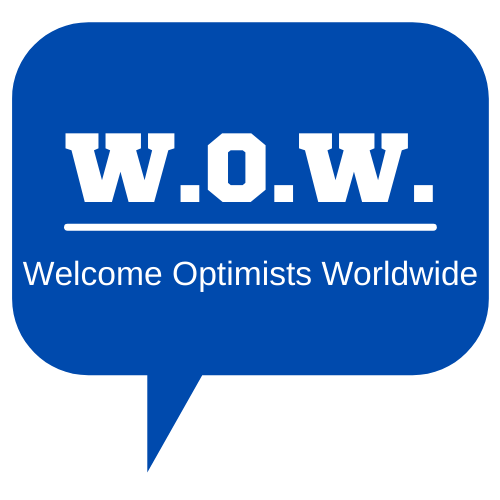 W.O.W. is a fresh way to increase participation and membership in your Optimist Club. With a focus on the social side of membership, W.O.W. will help your Optimist Club turn every activity, virtual or live, into a recruiting opportunity and have fun doing it!
The keys to success are:
Create opportunities for fun, social interaction.
Create opportunities for all ages, all types of volunteers, existing members, and potential members.
Invite your circle of friends and reach outside your circle to the larger community.
Be welcoming at the event.
Take five to ten minutes to talk about your Optimist Club projects.
At the end, ask attendees to join, right here, right now.
Follow up with those who need a little time to make the decision to join.
---
Optimist International Orientation to Optimism Series
Brought to you by Leadership Developement
posted: March 22th, 2021
Welcome to the Video Series on Orientation to Optimism.

If you are a new member, Welcome! Existing member will find value in this series as well. It covers five areas of interest to members of Optimist International and it is brought to you by members from their perspective. This series is a general overview that should help you in your journey through the wonderful world of Optimist International.

Orientation Episode 1 The Creed, Mission & Vision
Orientation Episode 2 Optimist Opportunities
Orientation Episode 3 Optimist Responsibilities
Orientation Episode 4 The Optimist Foundations
Orientation Episode 5 Optimist Resources

Click Here to Watch The Series
---
OptiForum Dec 14th 2020
How to Conquer the Pandemic with Optimism Field Guide
Optimist Clubs See Glass Half Full—Even in a Pandemic
Jan 25th, 2021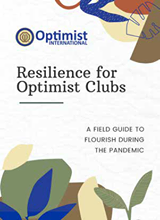 In the latest Optiforum, Mark Weinsoff invited staff and members to talk about "How to Conquer the Pandemic with Optimism." To recap the Optiforum, the Optimist International Communications, Marketing, and Technology Committee created the Field Guide to flourish during the pandemic. The field guide includes resources on financial assistance, the best way to meet with members virtually, and what clubs are doing to make a difference in their community. At the end of the webinar, the committee introduced the "Certified Optimistic Optimist Club" for clubs to receive recognition for their optimism during the pandemic. You can access the pledge and its requirements in the Field Guide.
Optimist International Field Guide 2020